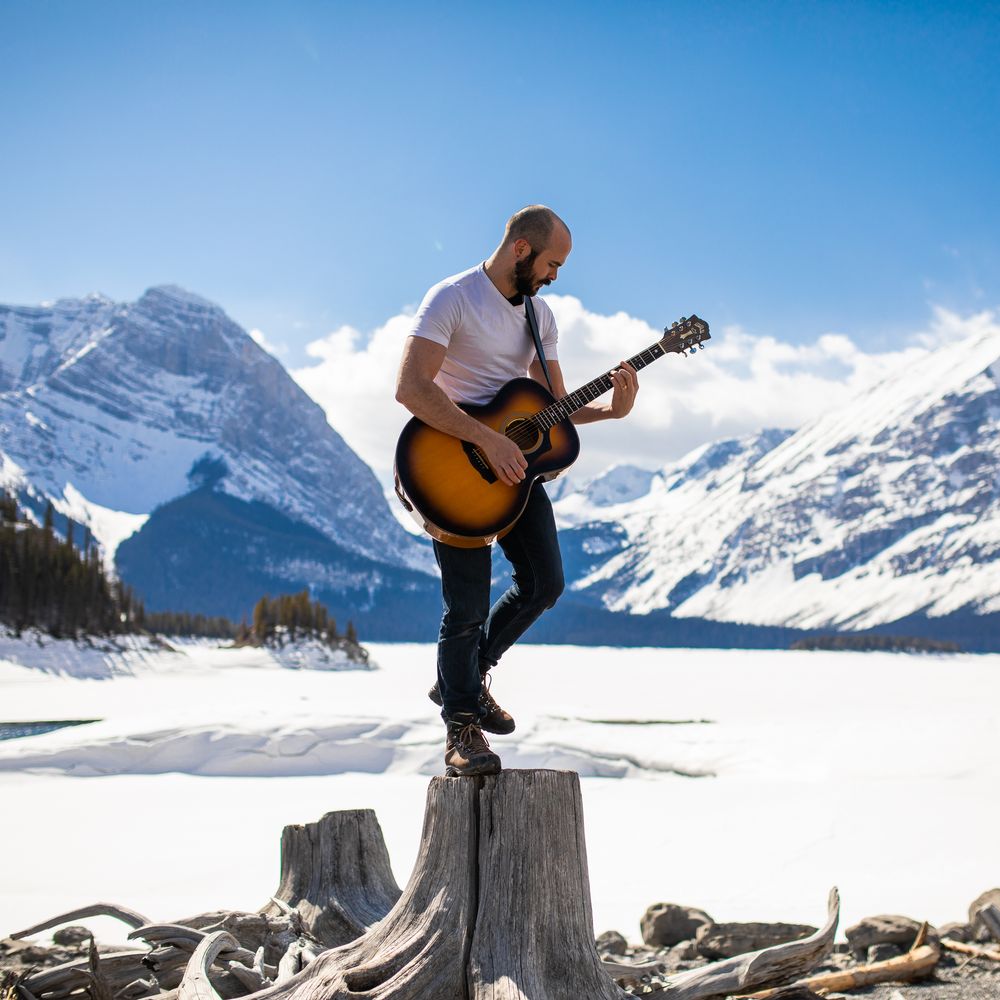 Bio
The seeds of Phill Nugent's folk-rock sound – sometimes whimsical and sometimes gritty – took root in the northern Canadian wilderness where he was raised. Phill has been singing and performing for as long as he can remember. The Yukon-born artist's background in musical theatre (he first took to the stage at age 5) later evolved into writing poetry, and eventually, songs. 
As a college student in Edmonton fresh off a heartbreak and drowning his sorrows in song, Phill taught himself how to play guitar and started performing at open mics. Three months later, he met the woman who would become his wife, and the sad songs turned into love songs.
The juxtapositions that inspire Phill's songs, like the comfort of family and the freedom of travel, weave rich storylines into his lyrics. Solitude and connection is another. As a kid (and even now near his home in Canmore, Alberta), it wasn't uncommon for Phill to wind up in a forest largely untouched by humans; yet he's no stranger to a crowd. Whether belting out The Lion King soundtrack from the children's stage of a music festival to busking on busy street corners, connection has always driven Phill as an artist. 
Just as sharing experiences and emotions through music is part of his DNA, Phill's wife Michelle and his sons Miles and Beck are his foundation. Many of the songs on his first studio EP, self-titled Phillip Alexander Nugent, are inspired by the life he and Michelle have built over the past decade. In essence, the EP – set for release in fall 2019 – is 10 years in the making.
Girl in London, one of the album's quieter, acoustic tracks, reflects on Phill's journey to the U.K. after a year away from Michelle, knowing he was going to propose to her there. Stargazers harks back to their time travelling in France where they spent their nights by campfire, eyes set on the sky. Phill wrote the song after their return home, when he needed to connect to that freedom again. As a listener, its ethereal sound will transport you, too.
The EP's first [1] single, Almost Perfect, was inspired by Gord Downie – one of Phill's major musical influences, among others like Paul Simon, Neil Young, The Foo Fighters and the Lumineers. Downie's last album, Introduce Yourself, pushed Phill to write more personal lyrics, which also shine through in the song No More Lullabies that he wrote for Miles and Beck.
Phillip Alexander Nugent was produced by Calgary producer Russell Broom, who Phill credits for turning on a lightbulb for him as an artist and helping him realize his vision for the album, bringing electronic accents and other accompaniments to a few of the tracks. Other songs feature drummer Adam Dowly, who helped Phill realize one of his goals with his music – to make people dance!
Now as a father, moving his career as a recording artist forward means even more to Phill. This album was an opportunity to show his sons that we all have the power to hold ourselves accountable and work toward our goals. For Phill over the next year, that includes playing music festivals, setting up a tour, and getting back into the studio to record his first full-length album.